The Asus ZenBook Pro UX550 is top-of-class. This ZenBook has a wide range of features and specs that makes is both an ideal computer for pleasure and work. This thing can handle most every task you throw at it.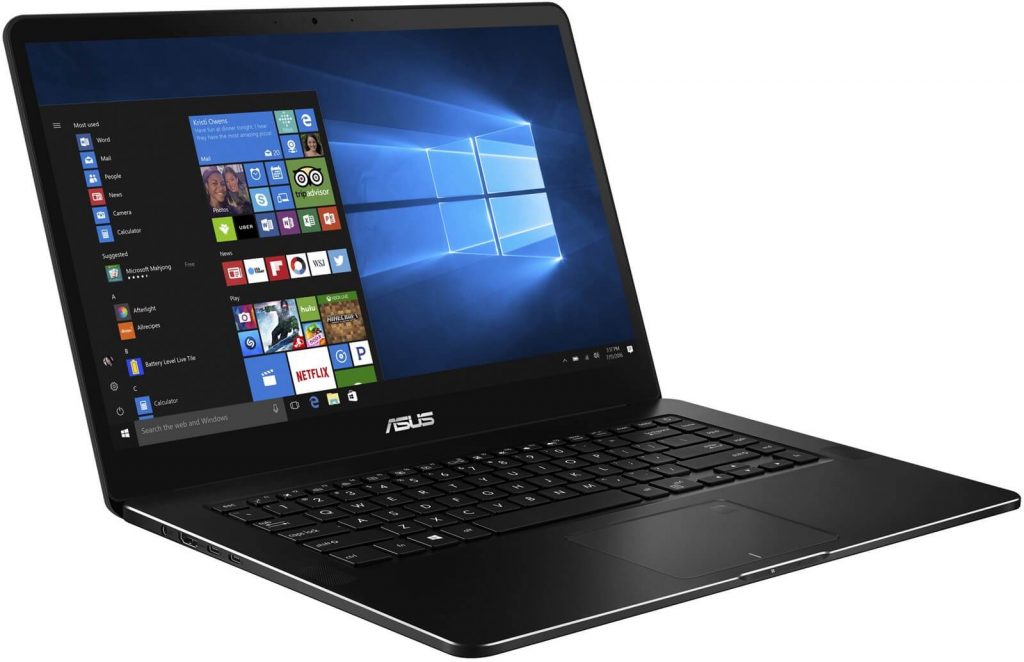 As expected this generation of ZenBook Pro expands on the previous generation and now you're getting a powerful discreet graphics solution. The ZenBook is ready to game which isn't something you could say in the past.
In the UX550 you're getting the best of the best. Fastest processor, lots of RAM, big SSD storage, GTX graphics, thin design, backlit keyboard among other features.
Definitely one of the achievements here is with the GeForce GTX card inside while still maintaining a 19.95mm / 0.79-inches thickness. It means less compromise for those of you who want gaming power but also want sleek design style.
If audio and sound is your thing, then the four speakers inside the UX550 should impress. The audio is certified by Harman Kardon which means it's going to be an above average audio experience.
Where to buy
USA –

France (Amazon.fr):

Germany (Amazon.de):
(Core i7 or Core i5)

UK (Amazon.co.uk):
(Core i7)

Italy (Amazon.it):
(Core i7)
SPECS – UX550 / UX550VE / UX550VD
We wish specs were a simple process but alas, they are not. The reason? Different regions of the world with models having different model numbers and configurations. So we can't just say UX550 specs and be done with it. It's much more complicated than that!
So what we're going to go is to make a separate listing for each existing model out there. This way you can scan the details and specs that matter to you and are for the model that is actually available to pre order in your part of the world.
Details are just emerging, but for now we will start with some information found on existing retailers as of May 28, 2017. Expect more details to come but for now please use these to guide your shopping choices!
Quick Specs – With only subtle differences from country to country, we have some quick specs for your reference. Since there are configurations that include 4K UHD displays and different storage configurations, these quick specs will give you some help in deciding what you are shopping for and what price ranges you are looking at.
UX550VD-DB71T (US and Canada)
Core i7
1920 x 1080 resolution
GeForce GTX 1050Ti
512GB SSD
16GB RAM
UX550VE-XB74T (US and Canada)
Core i7
4K UHD resolution
GeForce GTX 1050Ti
512GB SSD
16GB RAM
UX550VE-BO024R (Europe)

Core i7
16GB RAM
1920 x 1080 resolution
GeForce GTX 1050Ti
512GB SSD
UX550VD-BN008R (Europe)
Core i7

512GB SSD
16GB RAM
1920 x 1080 resolution
GeForce GTX 1050
UX550VE-BN022T (Europe)
Core i7
1920 x 1080 resolution
512GB SSD
8GB RAM
GeForce GTX 1050Ti
90NB0ET2-M01300 (Germany)
Core i5
8GB RAM
512GB SSD
GeForce GTX 1050
90NB0ET2-M01330 (Germany)
Core i7
16GB RAM
512GB SSD
GeForce GTX 1050
Model: UX550VE-DB71T (US)
Microsoft Windows 10 (64-bit) Signature Edition
Intel Kabylake Core i7-7700HQ Processor
15.6″ FUll HD (1920 x 1080) NanoEdge Touchscreen 178° View-Angle Display
NVIDIA GeForce GTX 1050Ti (4GB) GDDR5 Graphics Card
16GB 2400MHz DDR4
512GB PCIe NVMe SSD
Quad speakers
2 x Thunderbolt 3
2 x USB 3.1 Type A (Gen 1)
1 x HDMI
1 x DC-Jack
1 x Combo Audio jack
73Wh 8-cell lithium-polymer battery (Up to 14 hours of battery life)
14.37″ x 9.88″ x 0.74″ (W x D x H)
3.97 lbs
Model: UX550VE-BO024R (Europe)
Operating System: Windows 10 Pro 64-bit
Display: 15.6-inch LED backlit IPS touchscreen, resolution 1920 x 1080. Aspect ratio 16: 9. Glossy finish
Processor: Intel Core i7-7700HQ (Kaby Lake, 4-core) 2.8GHz. Cache 6 MB
Memory: 16 GB DDR4 2133 MHz
Graphics Card: GeForce GTX 1050Ti 4GB
Sound: ASUS SonicMaster
Hard drive: 512GB M.2 SSD
Connections: 1 x HDMI, 1 x USB-C, 1 x USB-C (Thunderbolt), 2 x USB 3.0, 3.5 mm headphone / microphone jack
Network features: WiFi 802.11ac, Bluetooth 4.1
Webcam: 720p
Battery: 8-cell 73 Wh, 12h battery life
Memory Card Reader: microSD
Dimensions: 36.7 x 25.1 x 1.89 cm
Weight: 2 kg
Back lit illuminated keyboard
USB RJ45 adapter
Image Gallery
Video – Hands-On
Here is the best collection of UX550 hands-on videos and promotional videos.
Details: First Promo Video (Asus)
Release Date: May 29, 2017
Details: Official Unveiling at Computex 2017
Release Date: May 29, 2017